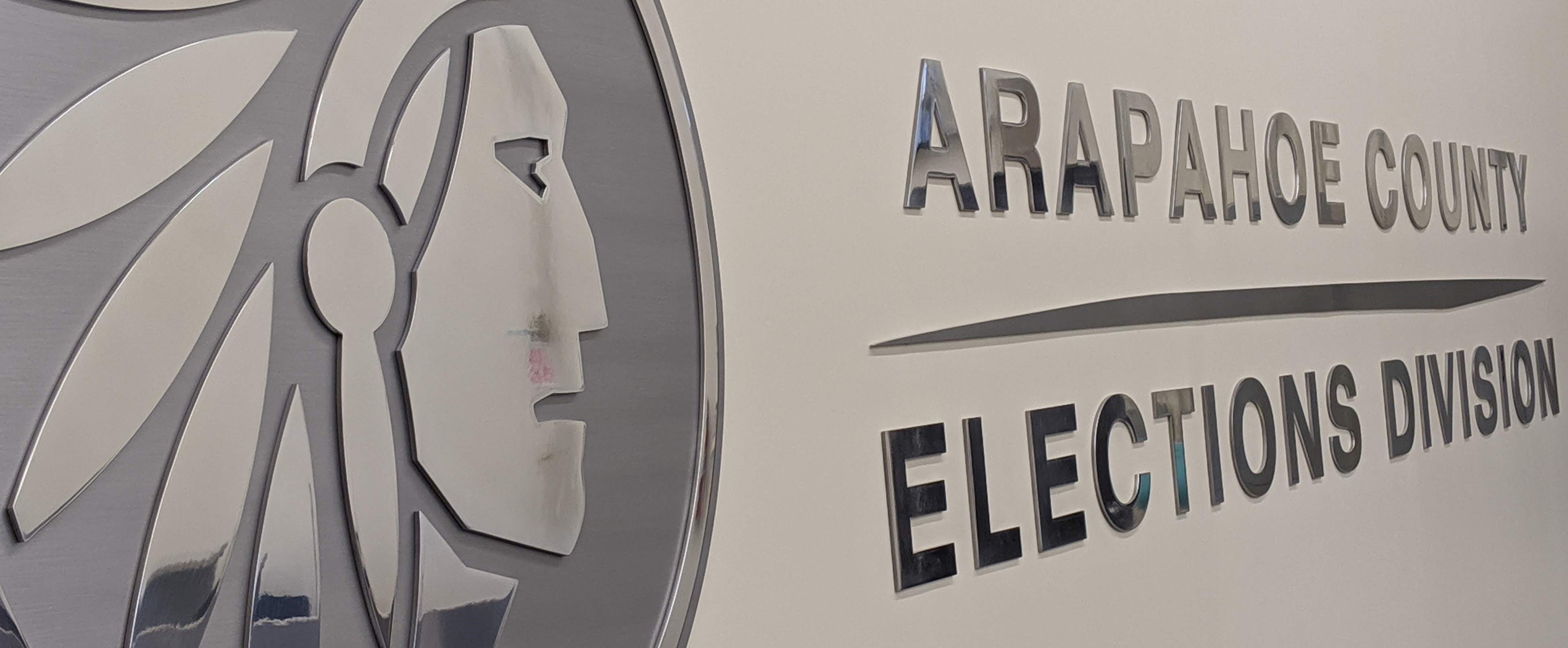 Election Judges
The Arapahoe County Elections Division welcomes interested citizens to serve as temporary election workers for each election. This is a unique opportunity to get involved in your local government and play a role in the democratic process.

Review position descriptions below for application links for the 2023 Coordinated Election.

In 2023, Election Judges will be needed for the November 7 Coordinated Election.
The following positions will be available:

Ballot Box Tent Teams - Election Day Only
Ballot Security
Ballot Opening
Election Night Ballot Security - Election Night Only
Signature Verification
Tabulation
Voter Service and Polling Center (VSPC)

REQUIREMENTS
18 years of age or older
A resident and registered to vote in Colorado
Pass a Colorado Bureau of Investigation (CBI) background check
Not a candidate or a relative to the 2nd degree of a candidate on the ballot
Note - Student Judges are hired for General Elections only and must be 16 or 17 years old.

HOW TO APPLY
Review each position below and click on the application link to apply for a 2023 Coordinated Election Judge position.
**Note - Please only apply for one position. If you are selected to interview, you can express your willingness to work where needed at that time.

Click the link to the right to view frequently asked questions about becoming an election judge.

Positions
Below are the positions that are available for 2023. Please only apply for one position. If you are selected to interview, you can express your willingness to work where needed at that time.

The Arapahoe County Elections Warehouse, 5251 S Federal Blvd. Littleton, 80123, is the hub of all the ballot processing for the county. Election Judges may be assigned to work in a variety of different positions and may have the opportunity to be cross trained in other positions. There is AMPLE FREE PARKING.
Shifts for Ballot Processing positions may vary, and Ballot Processing Judges could be called upon to work weekends. On Election Day, the work hours are long and you will be expected to stay for your entire shift!
Ballot Opening - Workers will remove ballots from envelopes, identify damaged ballots, and prepare and flatten ballots for scanning and tabulation. Your attention to detail, patience and flexibility will pay off in this position.
Signature Verification – Workers will learn established signature verification guidelines of the Colorado Secretary of State, review signatures on ballot envelopes, and compare them to online data in the voter record. Teams work in collaboration to discuss any discrepant signatures. The entire shift is spent viewing and verifying data on a computer screen, so attention to detail and a high level of accuracy is needed. Comfort with computer work is a must.
Tabulation - The Tabulation team will operate the ballot scanner computer, feed ballots into scanners and enter ballot counts by batch into laptop. After processing, the scanned ballots will be boxed for secure storage.

The Ballot Security Team begins their shift at the Arapahoe County Elections Warehouse, and in bipartisan teams of two (2) depart the facility in county or rental vehicles, with supplies for the VSPCs (Voter Service and Polling Centers). They transport voted ballots from VSPC locations and 24-hour ballot drop boxes back to the Elections Warehouse. Other stops may include the General Mail Facility and Arapahoe County Jail. This position does require a good driving record and the ability to lift up to 50 lbs with the assistance of a partner.
Health Care Facility Judge (HCF) – Bipartisan teams will visit qualifying Health Care Facilities throughout Arapahoe County. The teams meet at the Arapahoe County Elections Warehouse each morning, collect ballots and supplies for their assigned stops, deliver ballots to HCF's and possibly register new voters and issue ballots. Teams will deliver voted HCF ballots to the Elections Warehouse for processing. This position starts 3-4 weeks before Election Day, and may work Mondays - Fridays through Election Day.

Voter Service and Polling Centers (VSPCs) are located throughout Arapahoe County in Aurora, Byers, Centennial, Littleton. These remote locations of the Arapahoe County Elections Division provide the following services to voters:
Voter Registration or voter updates
In-person ballot distribution to allow for voting on paper or via a tablet marking device which is compliant with HAVA and ADA requirements
Statewide and provisional ballots
Replacement ballots
Ballot boxes for in-person ballots and returned mail ballots

THE STUDENT ELECTION JUDGE APPLICATIONS ARE ACCEPTED IN EVEN YEAR GENERAL ELECTIONS ONLY

As a Student Election Judge, you will experience the excitement of General Election Day by assisting voters at our Voter Service and Polling Centers. You'll earn a paid stipend for your time (including paid training!), perform a valuable service for your community, and gain experience that looks great on a college application or résumé.

To qualify you must be 16- or 17-years-old and a Junior or Senior in good standing at your high school; a U.S. citizen on Election Day; a resident of Colorado; physically and mentally able to perform the duties assigned to you; free of any conviction for fraud or election offenses; and not a family member of a candidate on the ballot.


Election Day Drive-up Tent Team
The Election Day Drive-up Tent Team Judges will work outside for the duration of their shift. They will collect ballots from voters who drive up to the drop-off location, and will securely deposit the ballots in the drop-boxes. Drive-up Tent Teams shifts will be either morning 6:30 am - 1:00 pm or afternoon, 12:45 pm - 7:15pm.
Election Night Ballot Security - The Election Night Ballot Security Team begins their shift at 4:00 pm on election day at the Arapahoe County Elections Warehouse. In bipartisan teams of two (2) they depart the facility, in private vehicles, and head to 24-hour drop boxes. At 7:00 pm on election night, they are in place and lock the 24-hour ballot drop box, remove ballots and place them in a locked and sealed box for transport and receiving at the Elections Warehouse.