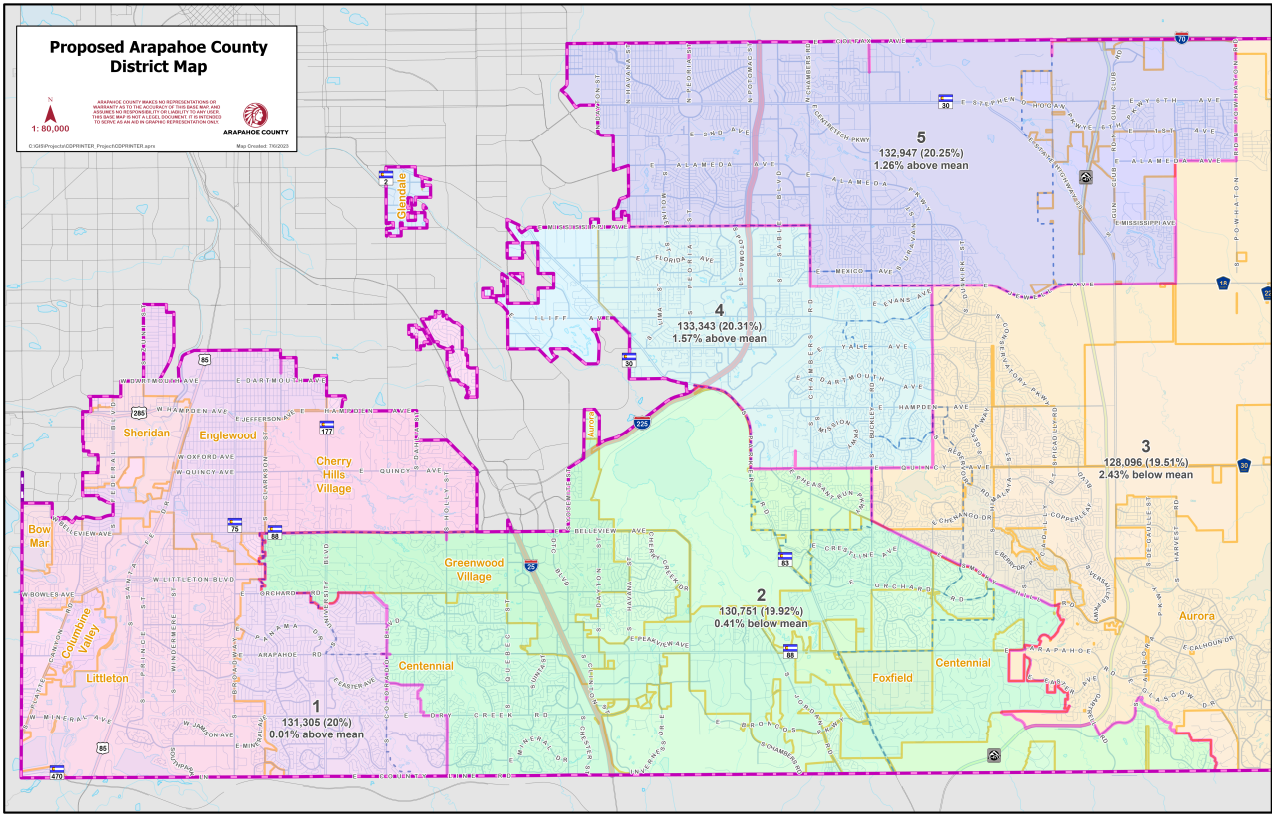 On July 25, the Arapahoe County Board of Commissioners voted unanimously Tuesday to adopt new commissioner district boundaries that will be in place for the next decade. State law requires counties in which commissioners are elected by district to redraw boundaries every 10 years to account for population growth.
"It's a great map that is the culmination of a lot of hard work," said Board Chair Carrie Warren-Gully, who represents District 1. She added that the new boundaries represent and preserve communities of interest (groups that benefit from being within a single district) and provide equal representation across the County.
District 3 Commissioner Jeff Baker thanked the Citizens Redistricting Advisory Committee, a working group of nine residents, three each from the largest political affiliations in the County (Democratic, Republican and Unaffiliated). The Committee created the new map after reviewing 19 different drafts, including some submitted by County residents.
State statute requires that the new boundaries maintain equal populations across all districts, preserve communities of interest, and take political competitiveness into account. Arapahoe County began its process in December 2022.
Changes from the County's current districts include:
The eastern borders of Districts 2, 4 and 5 will shift eastward;

Roadways are now the primary dividers between Districts 2 and 3 (Smoky Hill Rd.) and Districts 4 and 5 (Jewell Ave.), reducing the split of individual neighborhoods into different

districts;

The City of Glendale will move from District 5 to District 4; and

Communities in the southwestern rural areas of District 3, communities along the I-25 corridor, and communities within the area around Cherry Creek State Park will each be preserved inside a single district.
The new districts will be in effect for the 2024 elections and will remain in effect for 10 years. Two commissioner district seats are up for election in the 2024 General Election: District 3, currently held by Commissioner Jeff Baker, and District 5, currently held by Commissioner Bill Holen, who is term-limited.
More information about the County's redistricting process, including a detailed report describing how the new map meets statutory criteria, is available on the County's redistricting webpage.